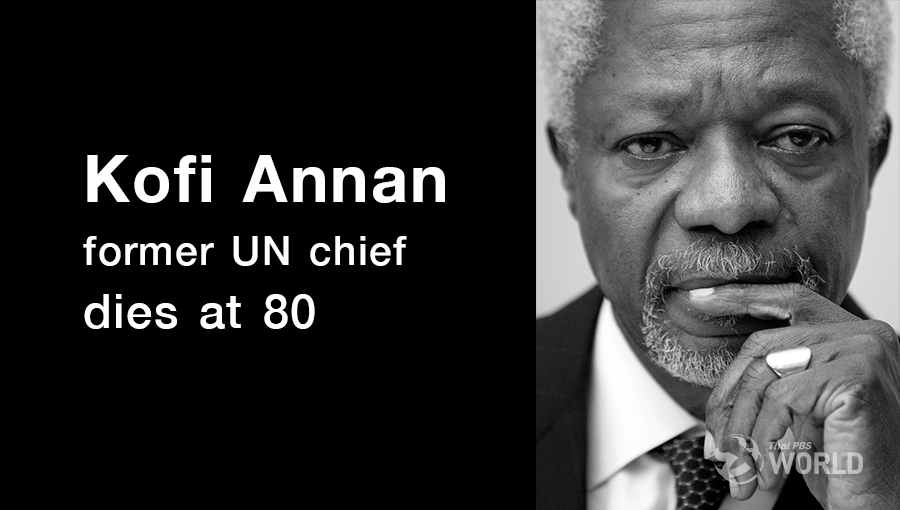 GENEVA (Reuters) - Kofi Annan, the former United Nations Secretary-General and Nobel Peace Prize laureate who died on Saturday, will be remembered as a dedicated humanitarian whose career was tarnished by ugly conflicts that spun out of control. Annan was...
"I am a stubborn optimist, I was born an optimist and will remain an optimist. The moment I lose hope all is lost, I encourage you to keep hope as well."

- Kofi Annan, former UN secretary general -
Deputy Prime Minister Wissanu Krea-ngam today reiterated the time frame set for the general elections, which is between February 24 and May 5 next year, and suggested that political restrictions will be soon eased to allow political parties to carry...
Bangkok Expressway and Metro Pcl which operates the Blue Line subway is pondering whether it should double the number of seatless carriage to two for each train so there will be more standing room to accommodate more passengers during rush...
Her Majesty Queen Sirikit has been admitted to  Chulalongkorn Hospital, the Royal Household Bureau announced this morning. The announcement said the Queen was admitted to Chulalongkorn Hospital on Sunday morning after having a fever and cough. Doctors conducted a microbiological...
BEIJING (Reuters) - Malaysian Prime Minister Mahathir Mohamad said on Monday he has asked China for help with his country's "internal fiscal problems" as he seeks to renegotiate, or possibly cancel, more than $20 billion in Chinese-funded projects. Mahathir said...